Release Date: August 28, 2018
An aspiring journalist takes a photo of questionable moral integrity, showing what the Great Depression has driven people to and it winds up being his big break. But when he returns to followup on it, he learns just how his photo and accompanying article has influenced the family in the photo and his niggling remorse over it turns into full blown regret and forces him to take a good, hard look at who he has become. Desperate to make things right, not only with the family, but also with his own parents and friends he has driven away, he embarks on a journey of atonement and self growth.
Based on a similar photo taken during the Depression (see below), the subject matter seemed compelling. It was very well written with well developed characters, but I felt like the plot dragged a little bit. I enjoy a good slow paced book, but sometimes it works and sometimes it doesn't and this time it was more the latter. It wasn't a bad read, but it was not as 'powerful' as I thought it was going to be, given the subject matter.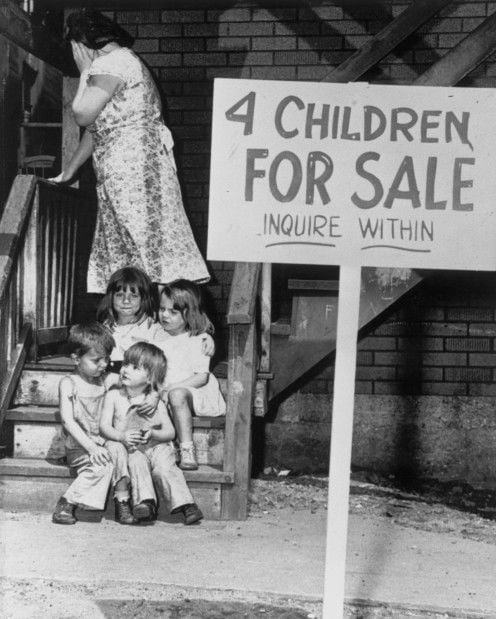 The real life photo which
inspired this novel
I think particularly because the actual photo (in the novel) that wound up being published was staged, the whole book felt too far removed from the real and gritty hardships and desperation of the Great Depression. It was really more about the journalist's remorse over staging the photo and what it winds up doing to the family. The story follows him and his love interest, neither of whom are particularly struggling all that much and don't embody the true depths of despair that time period evokes. I felt like this really could have been placed during almost any time period - the question of what some journalists will sometimes do for a good story and how they deal with those questionable ethics is something that isn't exclusive to the Great Depression. I'm not saying that such a topic isn't worthy of a novel, but this is not what I expected it to be, and therefore it lost it's impact on me.
Additionally, I have to say - the idea that Ellis knew how to pick a lock with hair pins just because he had "a father who preferred tinkering with machinery to conversation" seem ridiculously unrealistic and contrived for the sake of the plot. Maybe if Ellis had an uncle or such who was a locksmith, that would have been more believable, even if still a little contrived. But I just don't know how the author is making the connection between the two. This alone wouldn't be enough for me to dislike it, but it was so silly, I couldn't let it go unmentioned.
Advanced review copy from publisher via NetGalley. My opinions are my own